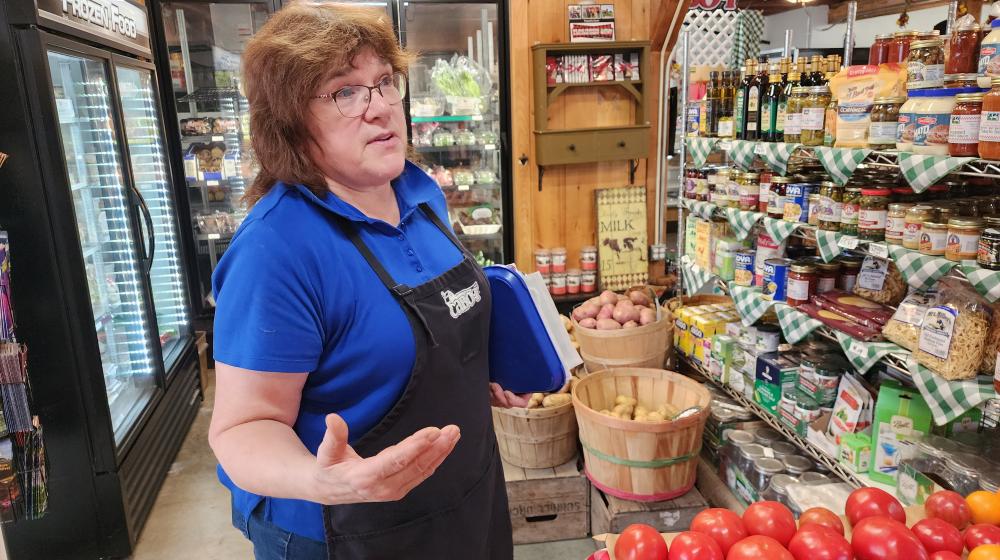 Connecticut's Farmington River has long been known for its scenic beauty and recreational opportunities but has recently gained some renown as the state's oldest archaeological site. While artifacts uncovered on the banks near Avon offer insights into the lives of ice age inhabitants, evidence of the creativity and resilience of American farmers can be found a mere 20 miles away at Freund's Farm Market and Bakery in nearby Litchfield County.
Theresa Freund has spent her life working on farms and is a master of making old things new and repurposing the imperfect at the store she manages near the family dairy. When she needed a climate-controlled space for fresh produce and cold items like milk and cider, the true cost of replacing a store cooler came as a bit of a shock.
"We planned to modernize this open refrigerated case," explained Freund. "The guy who inspected it said 'This is a dinosaur. How did you keep it going so long?'"
Humidity was a big issue for the operation with condensation fogging the glass in the heat of summer. The $50,000 replacement cost for the original unit was out of reach for the family. They had worked with USDA Rural Development (RD) in the past and contacted the local team to explore loan and grant options available through the Rural Energy for America Program.
The subsequent energy audit included a recommendation for a $100,000 mini-split unit that was cost prohibitive, but they were able to get a $10,447 RD grant to help them purchase and install a high efficiency glass door produce cooler. Freund says they noticed a big difference in energy consumption and have incorporated this new resource into their product placement strategy.
"We want to motivate people to buy more produce and regularly change the orientation of the items within the store," said Freund. "When we moved the milk and cider to the front corner, we sold twice as much."
Innovative approaches and collaborations with other agribusinesses also helped keep the market in the black during the pandemic. Freund says the store used to close for the winter but stayed open longer to meet their neighbors' needs, becoming a critical resource for the community.
"When you think of Connecticut, you don't think rural," adds Freund. "We're rural. We have plenty of trees but not a lot of people."
They offered curbside pickup of groceries and leveraged wholesale contacts to obtain bulk supplies of staples like yeast and flour that could be repackaged for individual consumers. Customers are still asking for those products today and much of what they can't sell is used for the catering business.
"I can take an imperfect squash and turn it into something beautiful or peel a cucumber and mix it with vinegar and spices to make a salad for a big wedding," said Freund. "Now, customers who have moved into the area treat us like a bodega. The average pre-pandemic sale was $15 to $20. Today, it's $30 to $50 when you add cheese, milk and other specialty items to the produce."
Obligation Amount:
$10,447
Congressional District:
CT-05