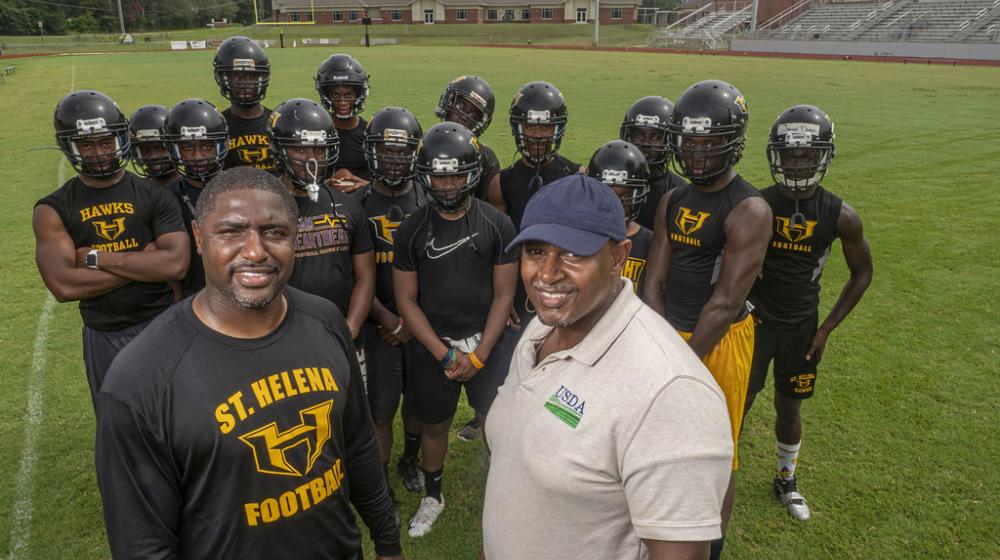 St. Helena College and Career Academy in rural Greensburg, Louisiana is home to the Mighty Hawks. In the small parish of 11,000, football is one of the main ways that the community comes together, and St. Helena is their only public high school. But, St. Helena's previous athletic facility and field was in such poor shape that neighboring schools would not travel to play them. The mission of St. Helena College and Career Academy is to create a community of invested learners in an atmosphere of high expectations and mutual respect. Along with their high expectations for their students, St. Helena has high expectations for their campus and extracurricular activities, as they envisioned a better experience for their students and student-athletes. Therefore, the St. Helena Parish School Board confided in one of Rural Developments many benefitting programs.
In 2015, the St. Helena Parish School Board received a $2.88 million Communities Facilities Direct Loan from Rural Development to enable them to construct an athletic complex. The complex includes a new football field house, stadium, concession stand, and parking lot. New concrete sidewalks and aluminum canopies were added between the new education building and stadium. The existing parking lot was re-striped, and accessibility upgrades and new lighting were added to give them a venue that could proudly welcome any visiting team.
In addition to having a wonderful facility and gathering place for the parish to assemble on Friday nights, the team is now consistently at the top of their district standings. The new facility and infrastructure are helping the Hawks and the St. Helena community sore to new heights both on and off the field.
Obligation Amount:
$2.68 Million
Date of Obligation:
March 1, 2015
Congressional District:
6