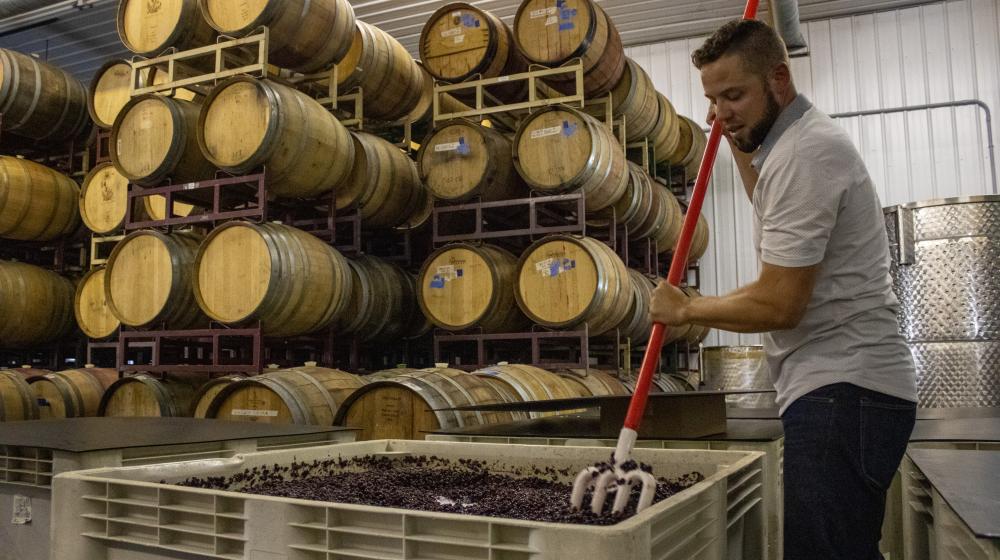 The drive up to Unionville Vineyards in Ringoes, New Jersey can be a tricky one. Patches of forest and sprawling farmland bound winding roads that lead to a natural, inclined driveway up to a rustic tasting room. In the summer, it's hard to find a more picturesque setting. In the winter, however, the roughly two feet of annual snowfall can make things a little more difficult.
On those frigid, precipitous days, Unionville General Manager John Cifelli has some bad news: You might have to stay home.
It's not that he doesn't want the business. In fact, it's quite the opposite – he just wants you to have the highest quality wine he can offer.
"Sustainability should hurt a little bit. We don't use salt to melt snow and ice anymore," said Cifelli. "Sometimes that means being closed when we could be selling wine, but I want to keep that meltwater and chemical residue out of our sensitive wetlands that feed our vineyards. That's a sacrifice, but to me it's worth it."
The salt sacrifice is just one of the many ways the farm focuses on being environmentally friendly. More than a dozen other sustainability and renewable energy initiatives were made possible through a $75,000 Rural Energy for America Program grant from USDA Rural Development to install a solar array.
"The solar array to make Unionville energy neutral is the cornerstone of what we've accomplished here in this time," said Cifelli. "The grant tipped the project in our favor and moved the solar project up the priority list. Without it, there would have been more immediate investment needs that would not have had the same beneficial impact on the environment."
Since its installation in 2018, the array has successfully generated more electricity than the farm uses annually. It has reduced energy bills by 90 percent and earned Solar Renewable Energy Credits for the farm, which allows for businesses to earn income through energy created by solar panels.
Cifelli is committed to a healthy, sustainable approach to his farming operations.
"Everything we do here considers the impact on the environment and community," he said. "To me, that is the lynchpin of sustainability -- keeping all impacts in mind when making each decision. This grant has helped improve our bottom line, our brand image, and reduced consumption demands. We're a better business because of it in every way."
USDA Rural Development offers programs to assist farmers and rural small businesses in developing renewable energy systems and making energy-efficiency improvements to their operations through the Rural Energy for America Program. For more information, contact Stephanie Bouchelle the USDA Rural Development office in Mt. Laurel, New Jersey at (856) 787-774 or stephanie.bouchelle@usda.gov.
Story updated September 2023 • USDA is an equal opportunity provider, employer, and lender.
Obligation Amount:
$75,000
Congressional District:
(NJ-07)