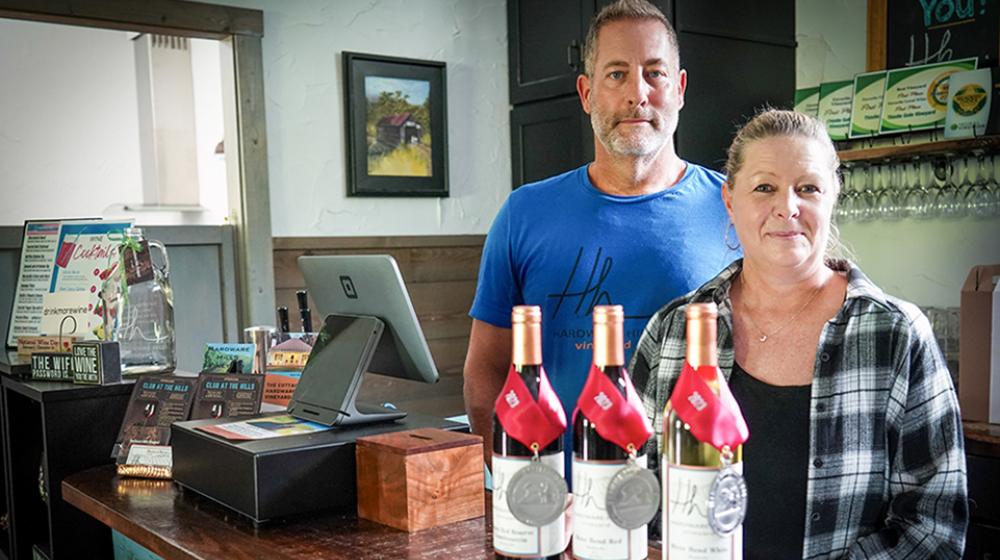 Hardware Hills Vineyard is located about five miles from downtown Scottsville but might well be in the middle of its namesake river when it comes to network connectivity. Owners Andrea and Rob Nickels spent their first 10 days on the property without internet and had to schedule multiple service calls with their initial provider to address glitches in the coverage.
"We call the location of this vineyard the black hole of cell service," Andrea explained. "We have three different buildings on the property that require internet. My husband also works remotely at the house and needs to stream live video for conference calls. The service was intermittent and spotty, so it was a frustrating experience for sure."
That all changed when Firefly Fiber Broadband received funding from USDA Rural Development's ReConnect Program to extend its network into their area. The community is "buzzing" about the service, saying it couldn't come soon enough, and the stronger, more reliable connection is helping the Nickels grow their operation in ways they couldn't imagine before.
"We literally run everything off of our broadband and have a constant need for online access to support behind-the-scenes activities that range from our point-of-sale system to the cottage we rent out to guests," said Nickels. "It's also a huge component of our daily marketing and helps boost our business because we're posting on multiple platforms and communicating with our customer base."
Nickels says most people find the vineyard through their website or social media posts. Those who come to the tasting room can access wi-fi to stay connected to friends and family. Vendors participating in Hardware Hills' annual market days and vendor "pop-up" events also use the internet connection to run point-of-sale systems in booths set up around the property.
These events has proven to be so successful that the couple is considering hosting additional sessions and is now embarking on new projects to expand the tasting room space with an event barn to accommodate larger crowds for conferences, public meetings, weddings and other gatherings.
That's quite an accomplishment for a team that's only been in the industry for two years! The connectivity has also helped the entrepreneurs access vital resources on the go to expand their knowledge of farming, wine production, bottling and marketing.
"I was pleasantly surprised to find that the signal reaches pretty far into the vineyard," said Nickels. "You usually lose the signal if you're way up into the vines and away from any structural buildings, but I'm often able to be in the field and do my office work at the same time.
"You rarely hear of people complaining about the broadband being down," adds Nickels. "It's been an absolute gift to this area to have a reliable network."
Obligation Amount:
$28,000,000.00
Congressional District:
5th, 6th, 7th