Community Facilities
Grants
Health Care
Infrastructure
Rural Development
Tribal
Underserved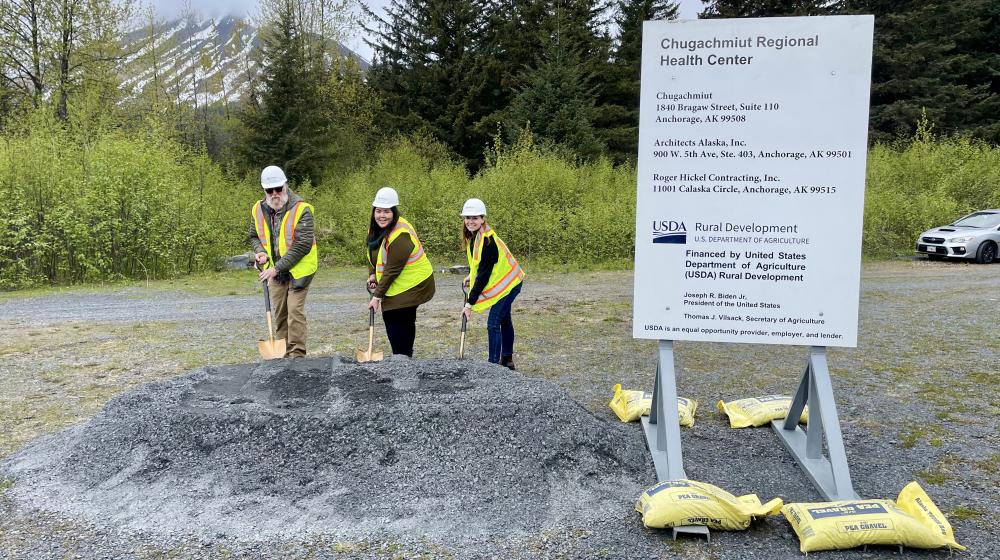 USDA Rural Development Alaska State Director Julia Hnilicka attended a groundbreaking ceremony for the Chugachmiut Regional Health Center in Seward, Alaska, Saturday, June 3. The occasion marked the start of construction of the $20 million facility.
"The past three years really emphasized the need to invest in rural infrastructure, especially because accessible, quality health care impacts the well-being of Alaskans," Hnilicka said. "This new regional health care facility in Seward, and the expanded services it will offer, is an example of how committed the Biden-Harris Administration is to providing culturally-responsive care and decreasing wait time and the need to travel for medical, dental, and behavioral health services for people who live and work far from major cities."
The 15,475 square foot Tribally owned and operated health clinic will serve as a regional hub providing medical, dental, and behavioral health services for Alaskans in seven Tribal communities. Construction is scheduled to finish in December 2024.
USDA Rural Development is helping fund the project with $11 million from the Emergency Rural Health Care Grant Program.
"We're extremely grateful for the financial support generously provided by the U.S. Department of Agriculture and the excellent support provided by Robert Chambers and his team," Chugachmiut's Executive Director Angela Vanderpool said. "It really took a lot of weight off the board's shoulders, and off my shoulders. Thank you so much for that. We're looking forward to a long journey with you."
Chugachmiut is a Tribal consortium that seeks to improve health and achieve health equity through access to quality services, a skilled workforce, and innovative programs. The seven tribes that belong to the Chugachmiut consortium are Port Graham, Chenega, Valdez, Nanwalek, Qutekcak, Eyak, and Tatitlek.
"Sen. Murkowski again demonstrated that she's someone that every Alaskan can rely on. She negotiated $2.5 million for our center," Vanderpool said.
To find out more about how local leaders and the federal government are working together to invest in the lives of our families, friends, and neighbors and the future of Alaska's rural communities, visit www.rd.usda.gov/ak.
Obligation Amount:
$11,000,000
Congressional District:
00