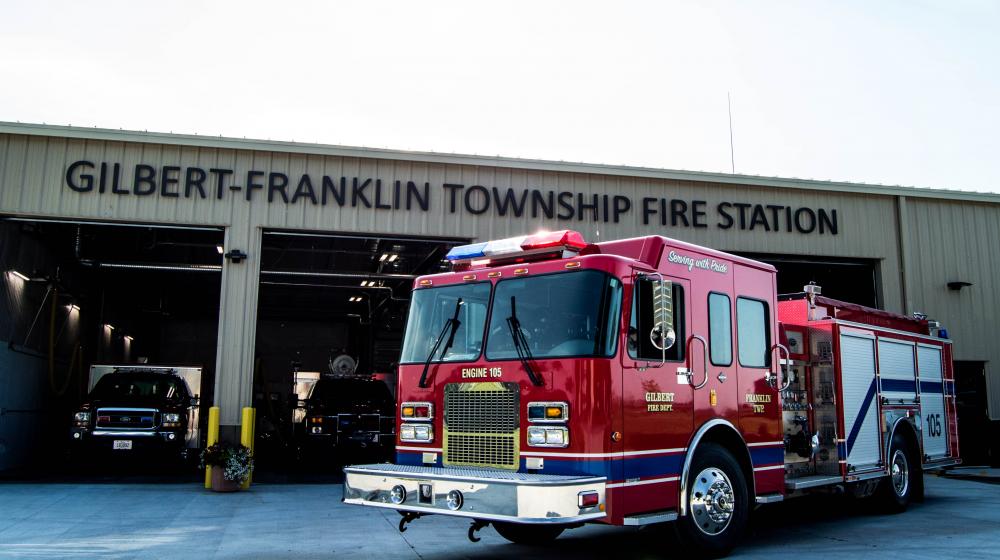 May 16, 2014 - Staff from USDA Rural Development today participated in a groundbreaking ceremony for a new multi-purpose facility in Gilbert.  The building will house a new fire station, as well as city offices and a community room.
USDA Rural Development is providing a $1.5 million loan to the Gilbert/Franklin Township Fire and Emergency Response Agency to assist with the project. The agency provides fire services to the City of Gilbert and Franklin Township in rural northwest Story County.
"We are pleased to be assisting with this important project for the residents of Gilbert and surrounding areas," said Bill Menner, USDA Rural Development State Director in Iowa. "Quality and reliable emergency services are critical to ensuring the safety of rural Iowans."
The City of Gilbert's current fire station is too small to house all the trucks and emergency response equipment. The new station will provide the fire department much needed space and a better location, as well as benefit the city with new municipal office spaces and a community hall. 
 "Keeping rural Iowa vibrant and prosperous requires a dedication to innovation, education and infrastructure," Menner added. "Loans and grants from USDA Rural Development play a vital role in our rural communities' efforts to grow and thrive." 
USDA Rural Development's funding continues to have a dramatic impact on rural communities across Iowa.  Since 2009, USDA Rural Development has invested more than $3 billion on essential public facilities, small and emerging businesses, water and sewer systems, and housing opportunities for Iowa families.
This past year USDA Rural Development's investment in Iowa helped create or retain more than 1,000 jobs, aided 2,600 families in buying their own homes and assisted more than 60 communities as they made improvements to their facilities, services and infrastructure. 
Contact USDA Rural Development
For more information about finance programs available through USDA Rural Development, please call the office located in Humboldt at (515) 332-4411 Ext. 4. This office serves communities, businesses and residents in Boone, Hamilton, Hancock, Humboldt Kossuth, Story, Webster, Winnebago and Wright Counties are served by this office.
USDA Rural Development has 11 offices across the state to serve the 1.7 million Iowans living in rural communities and areas.  Office locations include a State Office in Des Moines, along with Area Offices in Albia, Atlantic, Humboldt, Indianola, Iowa Falls, Le Mars, Mount Pleasant, Storm Lake, Tipton and Waverly.
Further information on programs available through USDA Rural Development is available by visiting the agency's web site at www.rurdev.usda.gov/ia.
USDA Rural Development is working with rural communities to create jobs, expand opportunity, encourage innovation and build a strong foundation for the future. The agency currently administers and manages more than 40 housing, business and community infrastructure and facility loan and grant programs designed to improve the economic stability of rural communities, businesses, residents and farmers and improve the quality of life in rural America.
President Obama's plan for rural America has brought about historic investment and resulted in stronger rural communities. Under the President's leadership, these investments in housing, community facilities, businesses and infrastructure have empowered rural America to continue leading the way – strengthening America's economy, small towns and rural communities. USDA's investments in rural communities support the rural way of life that stands as the backbone of our American values.
Obligation Amount:
$1.5 million
Date of Obligation:
March 1, 2014
Congressional District:
King - 4