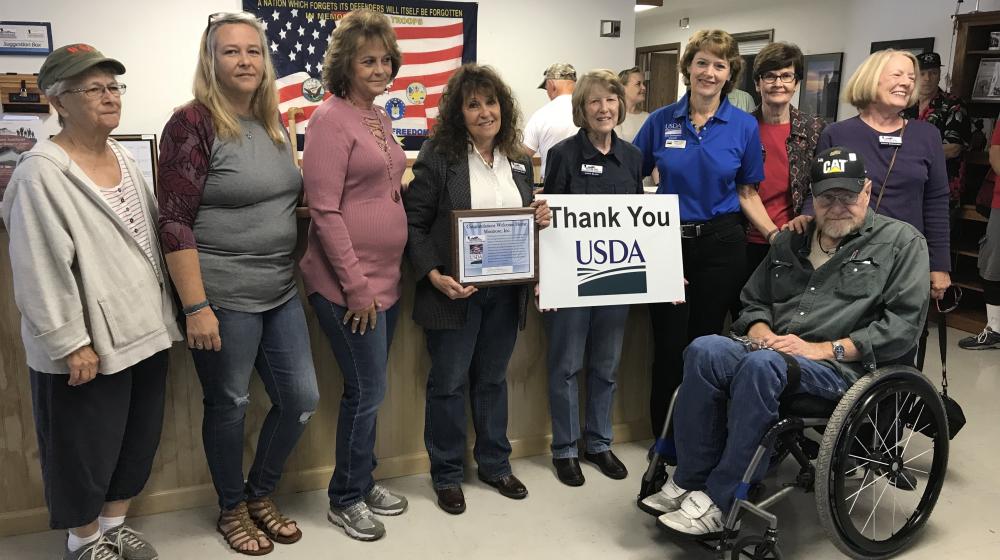 Melanie Klein, recognized the need to provide our veterans returning home a "no barriers" community where every veteran of our armed services could thrive in the life they choose. She knew that having a place for Veterans and their families to gather and find a support system was vital for their success.   Klein and a small group of community supporters formed Welcome Home Alliance for Veterans, a non-profit organization dedicated to serving those who stepped up to serve all of us.
By strengthening services, identifying and filling gaps, creating programs and removing barriers, Welcome Home Montrose provides a place where any veteran can connect and feel supported by their community. However, in the Summer of 2018 the building they were in was up for sale. Klein knew it was their opportunity to purchase the site and have a permanent place for veterans to call home.
The organization contacted USDA Rural Development and the agency was able to fund a $528,000 Community Facility (CF) Direct Loan to buy their building. USDA's Community Facility Program provides loan and grant funding to develop or improve essential public services and facilities in communities across rural America.
Through the determination of Klein and local Rural Development Staff the building the loan was closed and the purchase was completed in August 2018. Now the over 3,500 veterans living in Montrose, Colorado (according to the Census Bureau) will have services available to assist them with their needs.   The center provides peer support groups, counseling services for both veterans and their family members, training and social networking opportunities, and recreation and alternative therapies.
One example of those services is to a veteran couple who have service-connected disabilities. Life led them to the small western Colorado community of Montrose. They had no place to stay and ended up in a motel room for an extended period of time. With this cost weighing heavily on their limited finances, they became aware of Welcome Home Montrose. Welcome Home Montrose welcomed them into the family and provided them support to establish a new stable life in the community. The couple was provided resources for food and gas and other items that enabled them to get discounts at local merchants in the area. The facility also provided an address for the couple to begin receiving mail and computer access. It's this type of family support that will help this couple get back on the path to successfully transition into civilian life.
Obligation Amount:
Loan $528,000
Congressional District:
Tipton 03