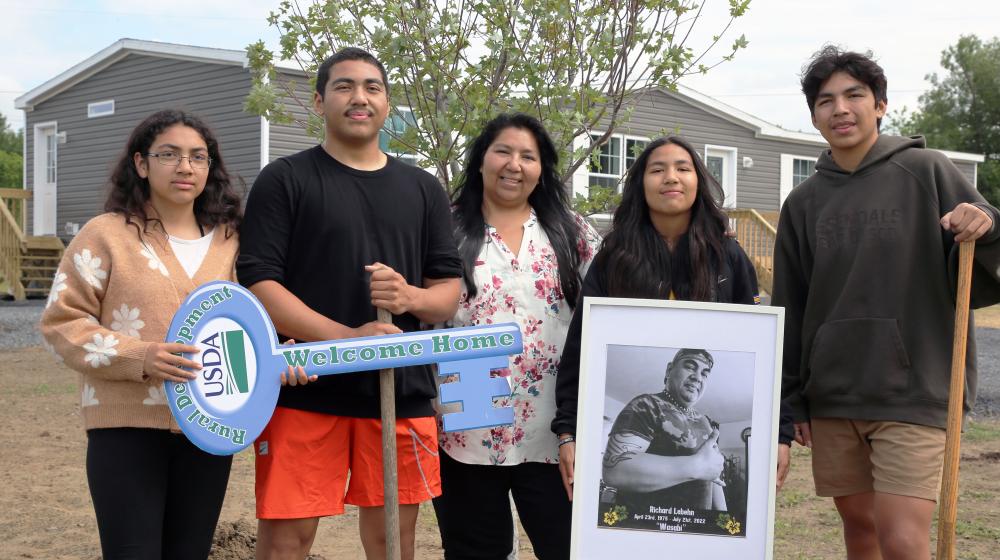 On June 9, 2023, in recognition of Homeownership Month, USDA Rural development (RD) New York had the privilege of celebrating the newest homeowner on the St. Regis Mohawk Reservation. Randa Martin and her four children (Logan, Brody, Liana and Lolani) welcomed the Rural Development team, staff from the Akwesasne Housing Authority, family and neighbors to gather at their newly constructed home in Hogansburg, NY, a community on St. Regis Mohawk tribal land. USDA presented the family with a red maple tree, planted together with Randa's sons, in memory of their late father, Richard Lebehn.   
In 2022, Randa Martin and Richard Lebehn applied for a Section 502 Direct Single Family Housing Loan to provide their family the opportunity to move from a modest rental on the reservation to a 4 bedroom, 3 bathroom home with a custom designed kitchen for Richard, a career chef in the Akwesasne community.
Long time USDA housing partner and certified Section 502 loan application packager, the Akwesasne Housing Authority, packaged the loan application and worked with the family and their builder to develop the plans and specifications for home construction. The New York RD team processed and approved the loan, which closed on November 17, 2022. Tragically, after Randa and Richard worked with the builder and the Housing Authority to set plans in motion to construct their family home, Richard unexpectedly passed away. Despite the devastating loss, Randa and her children continued forward to fulfill their dream of homeownership. Construction commenced in the spring and the home was completed and closed in May 2023. To further support the family, the St. Regis Mohawk Tribe's Home Improvement Division awarded Randa with a $10,000 grant, which paid for most of her foundation, thus reducing the loan amount and keeping the home affordable.
"This is one more great example of how members of the St. Regis Mohawk Tribe, the Akwesasne Housing Authority and the USDA are continuing to build our partnership, expand our friendship and increase our collective prosperity," said Brian Murray, USDA RD State Director for New York.
When Ms. Martin was asked if she had any words of encouragement for those that may be curious or interested in working with the USDA team on achieving their dream of purchasing a home, she added "If I can do it, so can you. This is our home sweet home!"
Obligation Amount:
$198,000
Congressional District:
NY-21 (Stefanik – R)