Homeownership
Homeownership Month 2022
Housing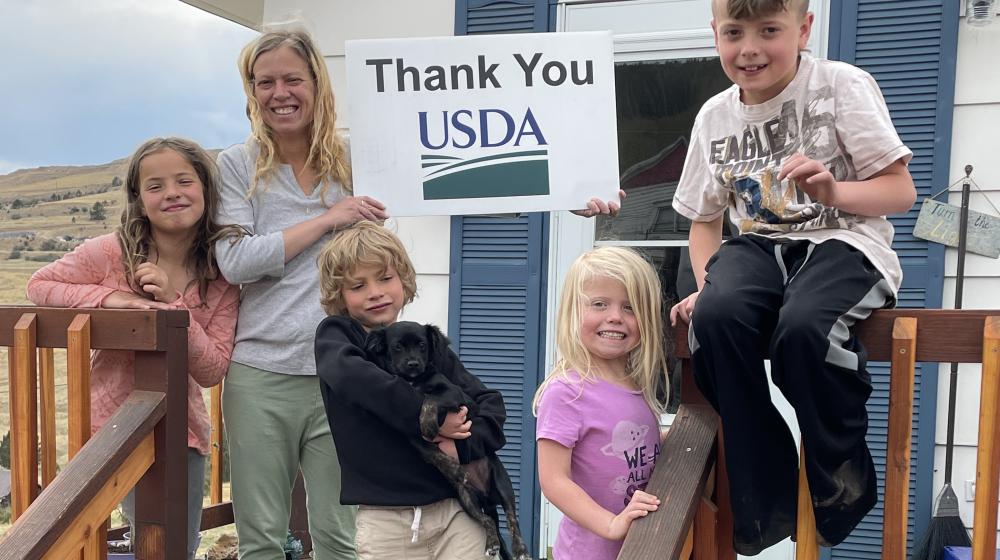 For many, owning your own home is the America Dream.  But the road to homeownership can be difficult to maneuver and include roadblocks and detours. Alexandria S., a widowed mother of four, is all too familiar with those bumps in the road and worked in partnership with the Community of Caring's Aspen Mine Center and USDA Rural Development to make her homeownership journey go a little smoother.  
Alexandria and her four children, Areyana, Adriano, Milo, and Vivian, moved to the town of Cripple Creek, Colorado, a former gold mining camp located 50 miles west of Colorado Springs near the base of Pikes Peak in 2016. Shortly after their arrival, the family fell prey to a housing rental scam and lost their brick-and-mortar dwelling.  With no other options available, Alexandria moved the kids and herself into a 10-foot camper.  The family of five attempted to upgrade to a 30-foot camper, however, when issues with the title fell through, Alexandria purchased an old school bus to serve as their upgraded home.
Converting the bus on her own, she ripped out seats, built beds, installed a small kitchen area with a small toaster oven and refrigerator, and fitted a camping-style, portable restroom near the rear of the bus. Alexandria permanently parked the vehicle at a local campground that had shower facilities, and the family called it home for the next few years.  
Since the bus was not reliable transportation, Alexandria purchased a vehicle which gave her the capacity to start working self employed, providing cleaning services to Teller County, and eventually working at a local business and take her children to school in Cripple Creek. But she never gave up the vision of getting back into affordable and stable housing and providing her kids with walls instead of wheels.
While juggling work, family, and other responsibilities, Alexandria had been working with the Community Caring at the Aspen Mine Center, which is a local non-profit that provides a "one-stop resource shop" for residents of Southern Teller County and the surrounding area. The Center offers a financial health advocate program, in partnership with the Pikes Peak United Way, and works with clients for up to two years on financial literacy, decreasing debt, and combating generational poverty.
"Housing is one of our goals, and, quite frankly, a big challenge in the Cripple Creek/Victor area," said Angie Trelstad, Director of Client Services. "We want to build a community for our schoolteachers, police officers, and residents so they feel they have a stake in our community. We want them to put down roots and homeownership creates that incentive in our community."
The Community Caring program provided Alexandria the road map she needed to reach her dream of owning a house. For two years, Alexandria worked hard to build her credit and pay off debts. Homeownership remained on the forefront of her mind and even her kids were on board with the idea of having a permanent foundation.  In fact, around Christmas time last year, Alexandria and her children visited the local Santa.  While the kids could have asked for toys, or clothes, or several other things on their wish lists, the only thing that all four children asked Santa for was a home.
After four years of living in makeshift housing, Alexandria applied for a 502 loan through USDA's Single-Family Housing Program and was approved in January 2022. Working with Ruth Grainger-Starr and Reed Grainger, local realtors who are pioneers in the Cripple Creek and Victor area, Alexandria was able to purchase her two-bedroom, one-bath dream home, that has plenty of outdoor space for her kids, Midnight, the dog, and Shadow, the cat, to play. There is even a place on the side of the house to park the school bus, which once served as home.  Instead of junking the home on wheels, Alexandria hopes to turn the yellow bus into a playhouse for the kids.
With the dream becoming a reality, Alexandria found a fun way to tell her children. She arranged to have a friend watch her children one afternoon.  The friend was in on the surprise and agreed to take the kids to their new home, under the auspice that they were going on a little field trip to meet some new friends at their new friends' house. When they arrived in the small town and knocked on the door, to their surprise, Alexandria answered and said, "Welcome to our new home!"
When asked what this opportunity meant for her family, Alexandria replied that she had tried several times in the past to get a home and was not successful. But through her hard work, perseverance, and never-give-up attitude she finally was successful.
"Being able to help Alexandria and her family is why we do what we do in the housing arena," said Terry Shek, USDA Rural Development Housing Programs Director for Colorado. "At USDA, we believe that by providing a hand up to families, we can change the dynamic and perspective for generations to come."
While it has only been a little over a month since they moved in, Alexandria has seen positive changes in her family.
"Having my kids be able to enjoy the luxuries of a home again is so special. Being able to shower when they want to and wash our dishes when needed was unimaginable. These are things that most people take for granted, and we don't," said Alexandria. "It's so quiet here and I can let my kids play in the yard and not have to worry. It makes me feel easier."
Providing affordable homeownership opportunities that promote prosperity, which in turn creates thriving communities and improves the quality of life in rural areas, is at the heart of Rural Development's mission. USDA Rural Development is focused on moving investments to rural America through housing, business and infrastructure loans and grants to create jobs and strengthen rural economies with an emphasis to assist areas of persistent poverty.   
For more information on USDA Rural Development programs available in Colorado visit www.rd.usda.gov/co
Obligation Amount:
Home Loan
Date of Obligation:
May 29, 2020
Congressional District:
Lamborn, Doug (CO 05)