Community Facilities
Grants
Health Care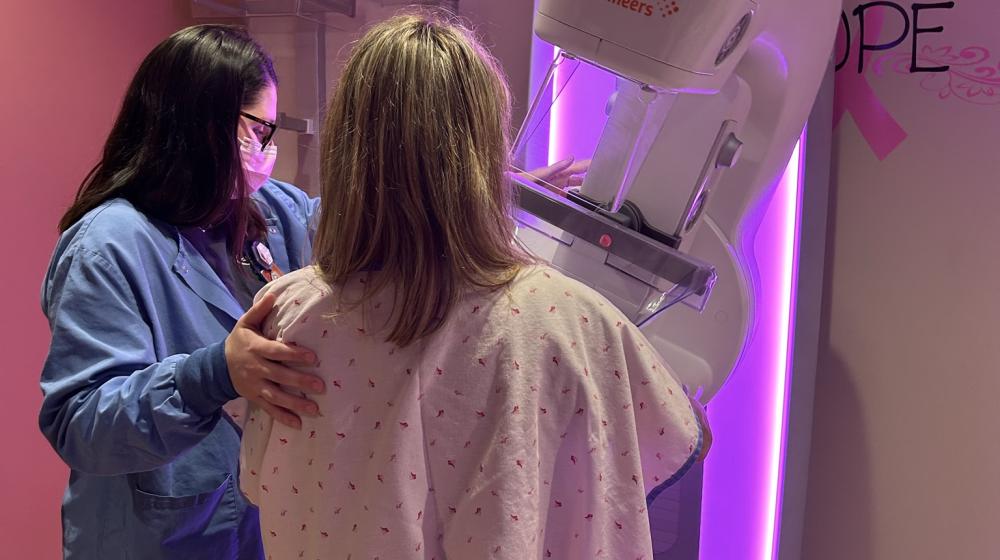 Giving patients the best and most thorough mammography screening experience is so important to a rural community, but the technology doesn't last forever.
That's exactly what Winner Regional Health experienced when their aging two-dimensional (2D) mammography imaging wasn't providing the best experience for their patients and required maintenance more frequently, not to mention struggling to find someone who would service a 2D mammography in rural South Dakota.
"2D is still considered very useful in the detection of breast cancer," said Jill Swallow, Winner Regional Health's Radiology Manager. "But we felt we were missing a lot of advantages by not having the three-dimensional (3D) and we were not getting the images our radiologists felt we needed to effectively detect breast cancer."
With a new machine costing nearly $300,000, Winner Regional Health and the community needed to be creative to help offset the cost. The hospital partnered with a local car dealership and community members to donate a Jeep Renegade to launch the Driven to Serve Campaign in 2022. Through the sale of 500 tickets, the community raised more than $50,000. The hospital received $20,000 in a grant from the Tripp County Community Foundation, another grant for $20,000 from South Dakota Community Foundation, the Stanley-Jones Trust awarded $40,000.00, and a remarkable $200,000 plus from the community.
"We had such great support from the local community," said Winner Regional Hospital Director of Marketing and Philanthropy, Brady Kerkman. "We reached our fundraising goal in just a little over four months because this community knew the importance of this technology."
Then USDA Rural Development got involved.
"We saw an article in the Winner Advocate newspaper about a fundraiser for a new 3D digital mammography," said Loan Specialist Alison Larson. "We felt the Community Facilities grant might be a good fit to help support the purchase of this updated mammography to serve the rural community close to home."
Alison worked closely with Brady, who also serves as the Executive Director for the Winner Regional Health Foundation to gather the necessary documents and begin the application process. In September 2022, the hospital was awarded a $158,000 Community Facilities Direct Grant, which provided the final funding needed to purchase the new mammography imaging.
"Having the support of Rural Development means that we could bring this to our community," said Brady. "Patients are absolutely thrilled we have the latest imaging technology in their local hospital. They are putting their trust in us to continue to do their exams and provide the best service possible."
"The 2D mammography was taking up to four images during a scan. With our new 3D digital mammography, we're now seeing up to 400 images," said Jill. "We're now able to provide better-quality images for our patients right here in Winner."
The 3D mammography also allows much faster results. The radiologist can review the results and order additional tests, such as an ultrasound, before the patient leaves the clinic, providing more thorough results on the same day instead of scheduling multiple appointments over several days.
"Before we had the new technology, patients were sent to Sioux Falls, Rapid City or Pierre for further testing," said Jill. "It might be two weeks before we can get them scheduled, then the patient would spend an entire day making the trip to one of those communities, and for some people, this also becomes a financial burden."
Now testing can be scheduled at the convenience of the patient and only take a couple hours of their day.
As the facility worked towards their fundraising goal, Brady decided he would not shave his goatee until enough funds were raised to purchase the new mammography.
"My wife hated it," said Brady. "But by June, enough funds were raised to proceed with the drawing for the Jeep and to purchase the new 3D mammography. We decided to hold an event to celebrate the community's accomplishment."
During the organization's Health Fair in June, Brady dyed his goatee pink. Dressed in pink from head-to-toe and with a crowd gathered, Brady was brought in by Joyce Heath in a pink golf cart. Joyce shaved his head and goatee to show solidarity and support for women going through chemotherapy.
It was such a wonderful feeling to know that our community supported our department and that they really wanted to have this type of technology here in Winner," said Jill.
Rural Development offers many programs with loans and grants to support local communities, businesses and homeowners. Visit rd.usda.gov/sd to learn more.
Obligation Amount:
$158,000
Date of Obligation:
September 21, 2022
Congressional District:
South Dakota