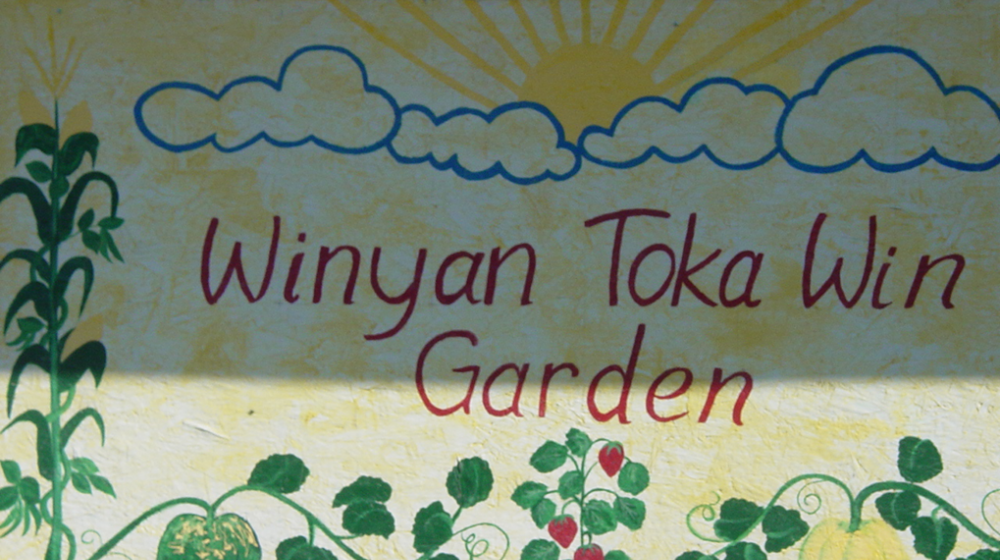 When the Cheyenne River Youth Project® (CRYP) first began its organic garden in 1999, staff members at the 26-year-old, not-for-profit youth organization scarcely could have imagined where that little garden would take them. Now, 16 years later, the thriving 2-acre Winyan Toka Win ("Leading Lady") garden located in Eagle Butte, South Dakota is the beating heart of the youth project — and it's quickly becoming a veritable micro farm.

Today, sustainable agriculture at CRYP supports nutritious meals and snacks at the Main youth center for 4- to 12-year-olds and at the Cokata Wiconi teen center.  It also provides fresh ingredients for the seasonal Leading Lady Farmers Market. To continue pursuing its long-term vision for the initiative, CRYP has invested in a new irrigation system, a garden redesign, and a composting system.
The most recent garden upgrades began last fall, when CRYP began the process of installing the new irrigation system, which was made possible through a South Dakota USDA Rural Development Community Facilities Grant.
 
Julie Garreau, CRYP's executive director, said she hopes the new planting areas and water system will allow the youth project to increase its yields by 50 percent, and also increase outdoor-classroom use among teen interns who wish to become gardeners and farmers.
 
The internships available for youth summer interns, ages 12 to 17, allow work on special wellness projects and on programs related to the 2-acre, naturally grown, pesticide-free Winyan Toka Win garden.
Interns commit to working a total of 60 hours at CRYP's East Lincoln Street campus before school resumes in the fall. Thanks to funding from Diabetes Action Research (DARE), each intern receives a $500 stipend at the conclusion of his or her summer internship.

Ethnobotanist Steven Bond worked closely with CRYP to design the new irrigation system and develop the new garden layout. Bond currently works for the Intertribal Agriculture Council as its technical assistance specialist in the Eastern Oklahoma Region and Western Region. "Steven has a wealth of knowledge about sustainable stewardship of the land, and his input was immensely helpful in starting to design and implement an even more sustainable and productive garden at CRYP," Garreau said.
Bond has worked with CRYP in the past, discussing nutrition with staff members so they could create youth cooking classes, and teaching community classes in Modern Gardening Basics and Advanced Gardening / Farming.
"CRYP is a valuable resource for this community and should be considered an excellent example for other tribes and nontribal communities," he said at the time. "The Intertribal Agriculture Council was honored to be included by the youth project in its mission to increase the quality of life of children and the Cheyenne River community by not only providing resources but also sharing with folks how to develop sustainable agriculture practices to generate wealth and ensure sovereignty."
By late May, CRYP completed all underground installations and all new mounds, and staff, teen interns and volunteers began planting each of the six new growing areas, complete with their drip lines and irrigation system support. By the end of the summer, the team had planted radishes, lettuce, squash, carrots, beets, broccoli, cabbage, tomatoes, several pepper varieties, strawberries and asparagus.
CRYP closes out another successful growing season and will continue to thrive and expand, thanks to a USDA Rural Development grant, South Dakota Department of Agriculture Specialty Crop Block Grant, a Native Agriculture and Food Systems grant, additional garden grants from Honor the Earth, Running Strong for American Indian Youth, the Wellmark Foundation, Northwest Area Foundation and the J.R. Albert Foundation.
To learn more about the Cheyenne River Youth Project and its programs, visit www.lakotayouth.org. And, to stay up to date on the latest CRYP news and events, follow the youth project on Facebook (/LakotaYouth), Twitter (@LakotaYouth) and Instagram (@waniyetuwowapi).