Contact
Stephanie Bittiker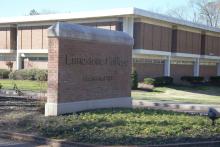 Ceremonial shovels were standing ready for a groundbreaking ceremony that was held at Limestone College located in Gaffney, South Carolina on January 28, 2020 celebrating a $38 Million Investment from USDA Rural Development which will enable the college to build a new Library and Student Center.
The project will involve new construction of a 63,981 square foot Library and Student Center that will be located in the heart of campus with related parking.  The library will feature advanced computer and audiovisual technology, a writing and math center, reading area, classrooms, and student work areas. 
In addition, Student Center's first floor will include a common area, a public art gallery, a community meeting space and an additional student dining area. 
"The start of this construction project in 2020 is a major part of our 175th anniversary, and when completed it will transform our campus and the student experience," said Limestone President Dr. Darrell Parker.  The new library and student center will serve as the new academic hub of Limestone's campus and will serve a s a central gathering place for students to connect. 
The anticipated completion date for the structure is May of 2021.  Together, America Prospers.
Obligation Amount
38,000,000
Senator's Last Names
Graham, Scott