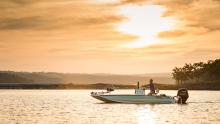 The last piece of this business expansion puzzle must be USDA Rural Development. Excel Boats, LLC determined in Fall 2017 they wanted to expand their business.  At the time, the company was building aluminum boats at their only manufacturing plant in Mountain View, Ark. Prior to needing the last piece of the puzzle, a tremendous amount of work had been done.  The company visited several states in the Southeast Region but eventually landed on a site in Northwest Tenn. 
Excel Boats purchased a building in Union City, Tenn (a distressed community) with the help of Tennessee Department of Economic and Community Development. They also secured a New Market Tax Credit (NMTC) allocation due to their new location with the assistance of Dudley Ventures, Inc. and Clifton Larson Allen, LLP. Lastly, they secured additional incentives through Tennessee Valley Authority, Union City, Obion County and the local Industrial Development Board. The only thing lacking was the final piece of the puzzle to make this expansion dream a reality.
Conversations with a local lender, Security Bank, from Dyersburg, Tenn were ongoing about two potential Business and Industry (B&I) Guaranteed Loans to finish off this deal. This loan guarantee option allowed for longer repayment terms than conventional financing which helped the deal make financial sense. Renovations to the building have recently been completed and operations are underway.
In a county with historically low unemployment rates since the closure of its largest employer, Goodyear Tire and Rubber in 2011, this expansion was a much-needed success for the community.  The company has committed to creating approximately 170 new jobs. Perhaps the true last piece of the puzzle will be when a local outdoor enthusiast, possibly a former Goodyear employee is able to purchase a boat made locally.
Obligation Amount
$3,100,000 NMTC B&I Guarantee; $1,400,000 Refinance B&I Guarantee
Congressional District
TN-08
Senator's Last Names
Alexander and Blackburn