Contact
Stephanie Bittiker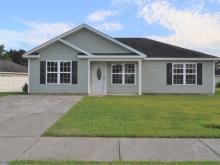 The road towards homeownership for the Scharff family wasn't easy.  However, with the help of USDA Rural Development, miracles do happen. 
In 2015, Jessie Scharff returned home to take care of her mother, who's health had started to decline.  Sadly, her mother died a short time thereafter.  Jessie was crushed.  She was an only child and her mother was everything to her.  Jessie spiraled into depression and soon found herself to be pregnant, alone, and homeless. 
By October, she gave birth to a beautiful and healthy baby girl.  She found new life with the birth of her daughter.  Jessie began working extremely hard over the next three years to make a better life for her and her daughter.
The next piece of her life puzzle was to find clean, safe and affordable housing for her family.  She found that many low income rentals had waiting lists and other inexpensive rentals in the area were often less than  desirable.  Jessie's income did not afford her the opportunity to purchase a home through conventional means.
In December of 2019, Jessie became the owner of beautiful home with the help of USDA Rural Development (RD) and their Single Family Housing Direct Loan Program.  She recently celebrated her one year anniversary in her "just before Christmas" miracle.  Jessie and her daughter are healthy, happy and safe and thanks to RD, "miracles do happen".
Obligation Amount
137,000
Congressional District
Representative Tom Rice, District 7;
Senator's Last Names
Graham, Scott