Contact
Stephanie Bittiker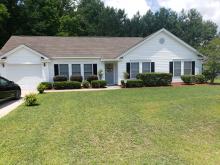 It was a Sunday afternoon when Berlynn Simmons was standing in line to check out at a local big box store located in the Low Country of South Carolina.  She noticed that a local Realtor was standing in the line behind her and decided to ask her some questions about the home buying process.  The Realtor asked her a few questions and after listening to Berlynn's response, she said with a smile, "What are you waiting for?"
Since Berlynn's rent had recently increased, she decided to share her contact information with the Realtor.  By that night, the Realtor had emailed her an application packet to complete.  On Monday, Simmons had completed the packet and soon began her journey with USDA and their Single Family Housing Loan Program.
Soon Berlynn was introduced to Rural Development Loan Specialist Angela Sanders.  Angela assisted Berlynn through out the process making sure every "i" was dotted and every "t" was crossed.  After going through the loan process with Rural Development, Berlynn was able to close on her loan and now is enjoying living in her beautiful home.
"The road was not easy, but the process and my experience was most definitely worth it.  I am forever grateful, and I thank you USDA," said Simmons.
Obligation Amount
$220,000
Congressional District
Representative Joe Cunningham, District 1
Senator's Last Names
Graham, Scott