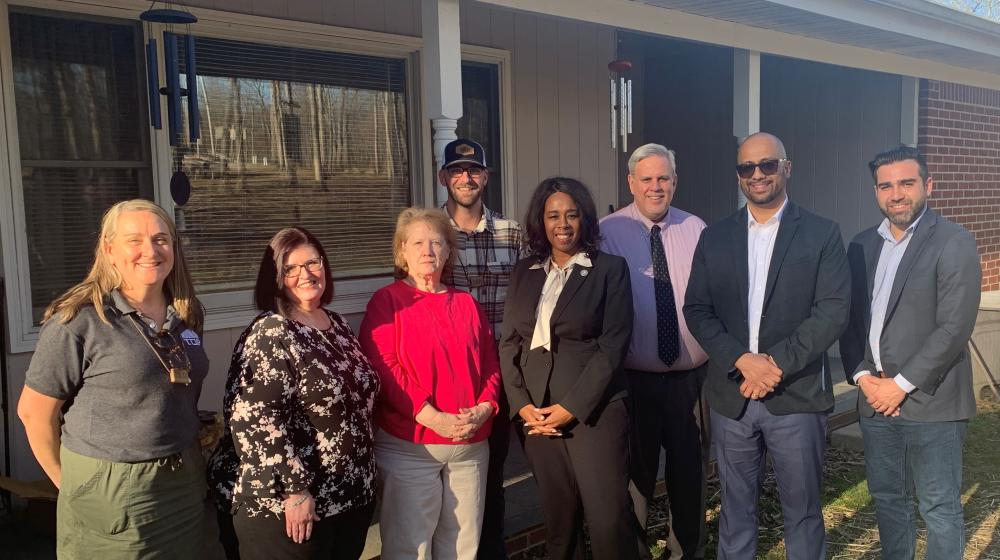 A continuous partnership between USDA Rural Development and Mountain T.O.P. has helped more than 300 families in the Cumberland Plateau with much needed home repairs. Mountain T.O.P. has received a total of 12 Housing Preservation Grants  to help qualified very-low and low income homeowners make needed repairs or improvements to their existing homes.
One homeowner in particular is Ms. Sylvia Hancock. Ms. Hancock is a resident of Grundy County and reached out to Mountain T.O.P. after seeing the repairs they completed at her aunt's house. Mountain T.O.P. came out to check on the home and determined there were several repairs that were needed. The shingles on the roof were old and several spots were beginning to buckle, which was causing water to enter the home. Ms. Sylvia would need a new roof, new flooring, a replacement sliding glass door, and new insulation in her attic. She had faith that Mountain T.O.P. would her bring peace of mind with these repairs and she loved their willingness to "create safe and healthy homes for the residents of the community".
Not only were the staff and volunteers a blessing to Ms. Hancock, but she was also a blessing to them. She prepared lunch and dinner for them, has stayed in contact with them, and even allows the volunteers to stay overnight when they are visiting town.
In March 2022, the Tennessee Rural Development State Director and the USDA Rural Housing Administrator, Joaquin Altoro visited Mountain T.O.P. and Ms. Sylvia. "One of the longest and most important partnerships that Mountain T.O.P. has is with the USDA," Mike Feely, Executive Director of Mountain T.O.P. said. "We are honored to host RHS Administrator Altoro and members of the national and state offices on their site visit, and look forward to showing them the work of Mountain T.O.P."
It was a beautiful day to meet with Ms. Hancock and hear from her what it meant to have these repairs completed. When asked how she would describe her relationship with Mountain T.O.P., she responded with one word - "Harmony".
Obligation Amount:
$75,000
Date of Obligation:
June 21, 2021
Congressional District:
TN-04