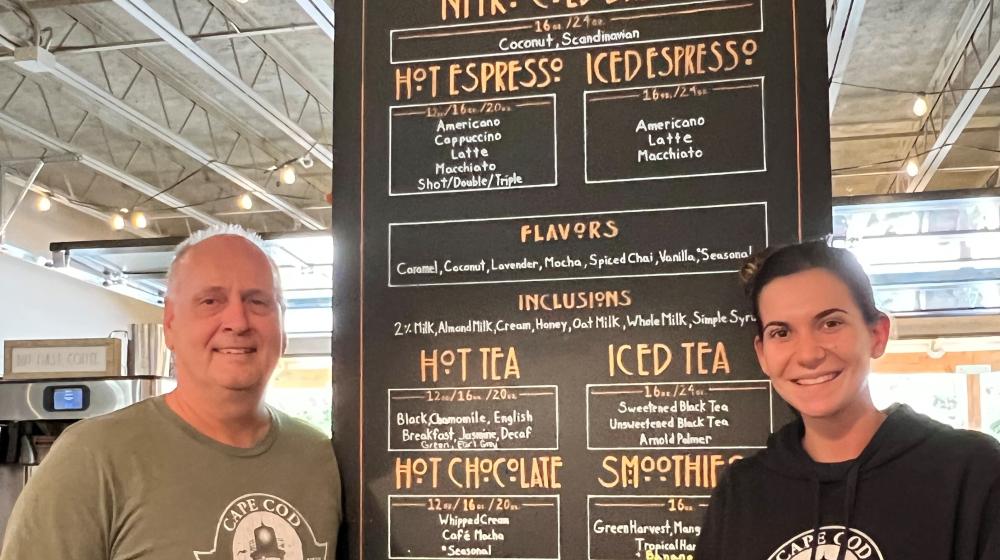 Many people have a passion for coffee. In fact, many of us cannot imagine starting our day without it. But for Pam and Jan Aggerbeck, owners of Cape Cod Coffee in Mashpee, Massachusetts, every cup of coffee is a part of their story of sustainability- And an opportunity to give back. (watch the video here) (Pictured above are: Jan Aggerbeck, Owner, and Michelle Gribben, Marketing Coordinator, Cape Cod Coffee)
The business is helping people in surrounding communities through scholarships and charities, as well as preserving the environment with recyclable single-serve coffee pods, packaging, and most recently through the installation of solar renewable energy thanks to a USDA Rural Development Rural Energy for America Program (REAP) Grant in the amount of $68,070.

The 85-kW solar array is mounted on the roof of the business, which houses a coffee bar, restaurant, and roasting facility. This project will save the business $26,065 per year on energy costs, and replace 108,605 kWh, or 57 percent annually, which is enough electricity to power ten homes.

Cape Cod Coffee, which has grown from three employees to 150 since 2015, offers 40 different flavors and varieties of coffee. All of the coffee beans are Fair Trade and sourced from farmers where the workers are treated fairly and paid fairly.

Jan says installing solar power fit right into what the company stands for, "Doing what's right, not just for the environment but for people."
When asked about his experience working with Rural Development, Jan says, "We've had a great experience. We were new to it, and everybody was very good about setting expectations and telling us what was going to happen next and how long things would take. Everyone was very good about setting expectations for us. It's been a smooth process."

If your business is interested in learning more about the REAP Program, contact Anne Correia, Energy Coordinator and Business and Cooperative Programs Specialist, at anne.correia@usda.gov or 508-295-5151 ext. 4.
Obligation Amount:
$68,070
Date of Obligation:
July 28, 2022
Congressional District:
MA 09