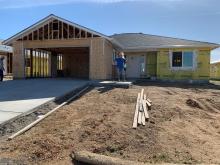 Sherry Parker was single mother to three children when devastation rained down.
California's Camp Fire, the deadliest and most destructive wildfire in California's history, and the most expensive natural disaster in the world in 2018 in terms of insured losses, devoured their rental home; and in the process took three of their pets along with it.
The family was temporarily relocated to Auburn where they stayed in the home of a kind stranger who donated a cottage to the wild-fire survivors.
Even though Parker was a local, born and raised in Butte County, she didn't have much family close by.
"It was a lonely time," she said. 
Fortunately, she received a job offer for a local non-profit working as a disaster case manager.
At the time, there was nothing available for more permanent housing for the family of four after the fire; and Parker was not in a mental or financial place to apply for a home loan.
The landlord who lost the rental had a less than acceptable double wide that they were living in since they moved back. There was no heat or air, and the floors were barely hanging to the base of the trailer. 
"I knew we could not call the place we were living in home," she added. "I had to keep moving forward and not settle for this."
Parker was referred to the USDA Rural Development Self-Help 523 program through the Community Housing Improvement Program by a friend who had also been through the self-help program and built their own home.  
CHIP also received a large grant from USDA RD to help families who lost homes in the Camp Fire rebuild homes they could afford. Before the fire, a homeowner paying $500 or less was common in this area.
"The current rising cost of construction materials coupled with California's highly competitive, low inventory of affordable housing make it nearly impossible for low-income rural residents like the Parkers', as aspiring home owner, to ever become a success home owner in their life time," said Stephen Nnodim, USDA RD California Single Family Housing program director. "Thanks to partners like CHIP who have assisted hundreds of rural very-low to low incomes families and the dedication of USDA RD SFH staff towards making homeownership a reality in our rural communities."
So, Parker applied in January 2020 for the same program and is now in the process of finishing the Stone Fox development in Corning.
"After finding out my application was approved, I was referred to Cheri Skudlarek, Single Family Housing regional coordinator, who assisted me with my loan," said Parker. "She went above and beyond to assist me with understanding the process, and ensuring I had everything I needed in order to move forward with getting approved."
Skudlarek and loan specialist Andrea Harbert worked hard to ensure Parker's process was as smooth as possible.
Once approved, Parker was placed in a group, and construction started in December 2020. They are currently 22 weeks in, and Parker is now assisting seven other families with building their homes as well.
"Without this program, or the compassionate lenders involved, I feel like I would still be stuck," Parker said. "This experience has given me a light at the end of the tunnel I so desperately needed to obtain permanent, stable, and safe housing for my children."
Obligation Amount
$257,500
Congressional District
California 1st Congressional District
Senator's Last Names
Feinstein, Padilla