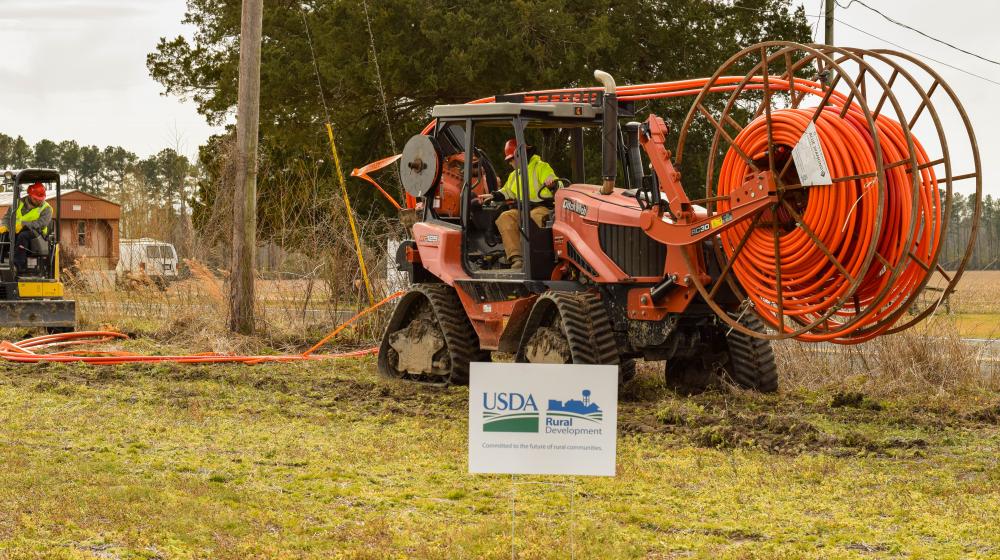 Rural North Carolina is continuing to adapt to the digital age where high-speed internet is essential. There is a powerful ally in this evolution with the Atlantic Telephone Membership Corporation.
ATMC is bringing access to the internet with speeds up to 1 Gps to thousands of homes and businesses in Columbus County since partnering with the United States Department of Agriculture Rural Development in 2010.
So far ATMC and USDA RD have brought high speed internet to 2,000 homes in Columbus County.  
A ReConnect Grant issued in 2019 will add another 4,000 homes and businesses to that count.
The Broadband ReConnect Program furnishes loans and grants to provide funds for the costs of construction, improvement, or acquisition of facilities and equipment needed to provide broadband service in eligible rural areas.
Access to the internet is a challenge to some rural parts of the county and the partnership with USDA RD is helping alleviate this burden.
"These areas are so sparse, it's extremely expensive to build a fiber optic network to a rural community," said ATMC Chief Executive Officer Keith Holden. "The USDA grants were the only reason that ATMC was able to connect these areas to reliable, high-speed internet."
The residents of Columbus County are better equipped to handle the COVID-19 pandemic with the access to the internet that ATMC is providing.
Many rural residents across the country are forced to travel many miles to find Wi-Fi hot spots or drive to the local coffee shop or fast-food restaurant. Those who can afford satellite internet providers often find the service unreliable in rural areas, according to Holden.
The COVID-19 pandemic has exacerbated the need for access to high-speed internet.
Access to ATMC's fiber optic network, is allowing students to do virtual learning at home and businesses can offer remote work options and move retail sales online.
The ATMC and USDA partnership is giving patients the ability to visit with their primary care physician online rather than having to go into a doctor's office and risk exposure.
"Possibly the and most importantly, allowing families to stay in touch with loved ones throughout the pandemic," said Holden.
As the partnership between ATMC and USDA RD continues to develop the local community is seeing the benefits of collaboration.
"We've been able to expand our services to more areas of Columbus County, we've also been able to invest in the community through ATMC's Community Connections grants program, scholarships for graduating seniors and donations to local charities are directly benefiting Columbus County residents," said ATMC Public Relations Manager Victoria Bellamy. "As we've been able to expand our network in Columbus County through grants from the USDA and others, we were able to open up a retail location in Whiteville last year allowing us to better serve residents and businesses and continue to build relationships with Columbus County citizens."
USDA RD North Carolina is proud to work with ATMC and is very pleased with the work done so far and are anxious to continue the advancement of high speed internet through Columbus County in the coming years.
"'Together, America Prospers' are not just words on a wall for us," said a USDA RD North Carolina spokesman. "Helping rural North Carolinians have better lives is what we all strive to do on a daily basis."
There are many unknowns in 2021. However, the people of Columbus County can remain confident in the expansion of internet access through ATMC and their partners with USDA RD.
-30-
Obligation Amount:
$7,934,762.00
Date of Obligation:
November 6, 2019
Congressional District:
David Rouzer