Entrepreneur
Local Foods
Made in Rural America
REAP
Renewable Energy
Small Business
Value Added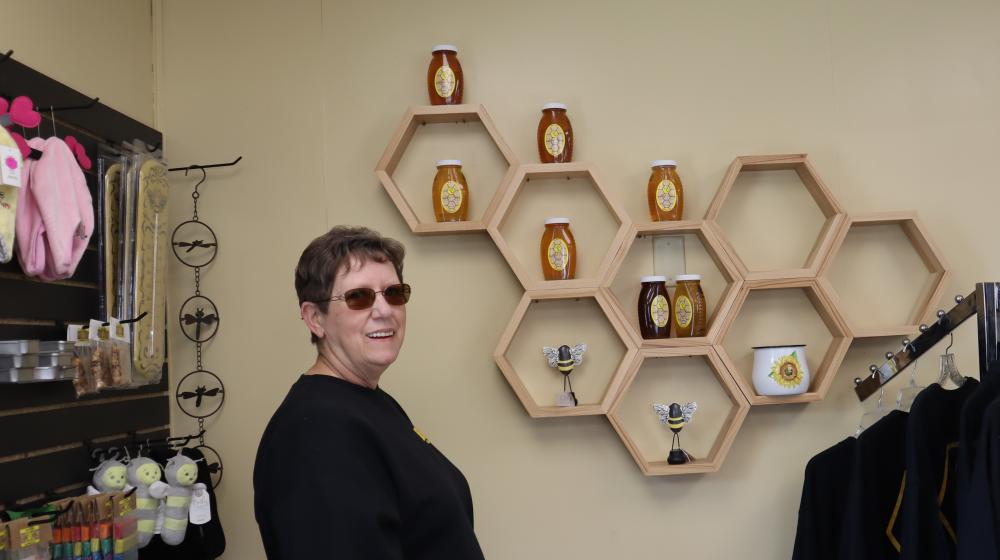 Mark and Linda Graf have a crew of over 400,000 bees in over 100 hives working for them near Emerson, Nebraska. The Buzz, their store on Main Street, sells local honey and related products.
 
The Grafs are shining examples of entrepreneurship in rural America. Linda describes Mark as a tinkerer, an innovator, and an early adopter of technology. Mark's interest in bees and honey led to a collection of hives at the nearby lake, in his backyard, and on family farmland. Soon, Linda was helping with extraction and packaging of honey in the basement of their home.
 
"Things got…sticky," Linda said. 

Together they slowly expanded Mark's interest into carefully produced products including creamed honey in flavors like peach and vanilla, toffee, soaps, and beeswax figurines. Their entrepreneurial spirit led them not only down the path of producing local honey under the Graf Bees label, but also to a partnership with USDA Rural Development.
 
When space opened next door to their home to open a shop, the Grafs took hold of the opportunity and The Buzz opened its doors. Then, they applied for a Rural Energy for America Program (REAP) grant to add solar panels to the roof of their shop. REAP provides loan financing and grant funding to agricultural producers and rural small businesses for renewable energy systems or to make energy efficiency improvements.

The Buzz now boasts a 5.64-kilowatt solar array that saves them money on their energy bill.
 
"I sure prefer that $21 dollar a month bill to what we paid before," Linda said with a smile. 

The Grafs continue to improve, refine, and "tinker" with their strategy and products. Later this year, they'll sell to the large crowd expected at the Cattleman's Ball planned just down the road in Pender, Nebraska. Linda has visions of hosting wine and mead tastings as well. In fact, the Grafs are considering expanding more of their sales online, potentially through the Value-Added Producer Grant program, which aims to help agricultural producers generate new products, create, expand marketing opportunities, and increase producer income.
 
In true entrepreneurial style, the Grafs and their bees continue to grow, innovate, and thrive in rural Nebraska. 
Date of Obligation:
September 22, 2022
Congressional District:
NE 03