Entrepreneur
Food Supply
Know Your Farmer
Local Foods
Local Produce
Small Business
Sustainable/Organic Foods
Value Added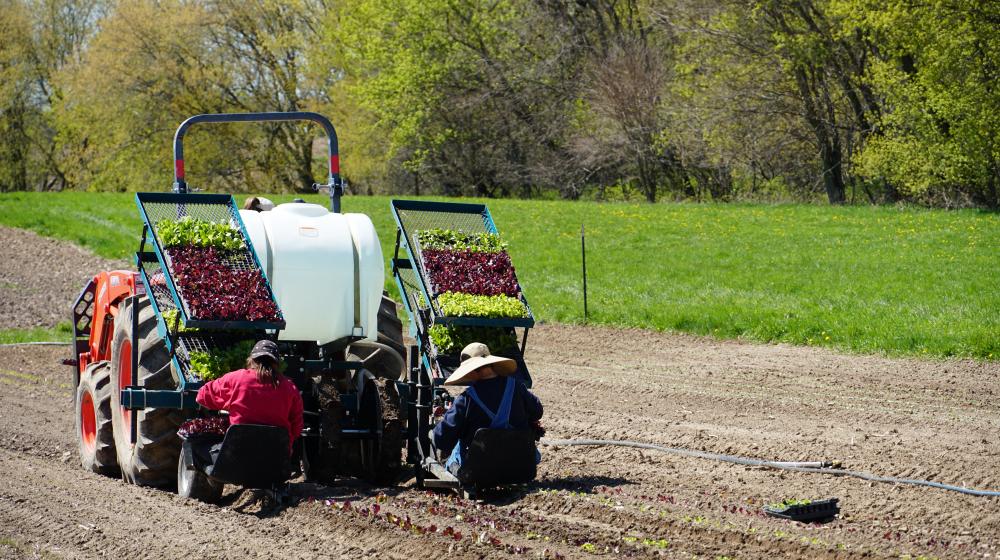 In 2015, Lovefood Farm launched their farm off one rented acre with a small Community Supported Agriculture (CSA), Saturday farmers market and a neighborhood farmstand. Lovefood spent a few years at the Farley Center Farm Incubator, which allowed them to eventually purchase 30 acres of land in Stoughton, Wisconsin.
This land is where we find David Bachhuber on what could easily be called one of the first nice days this year in Wisconsin.
Etta James' voice is pouring out of a building from a Bluetooth speaker and into the fields under a clear, blue sky. Robins are chirping. Staff are quietly moving about in the greenhouses. David was loading up a tractor with trays of plants while Luca, their puppy, settled in for a nap on a pile of frost blankets.
Life is certainly like a song at Lovefood Farm.
Lovefood has received two USDA Value-Added Producer Grants. One in 2016 for planning and the other in 2020 for working capital. The Value-Added Producer Grant (VAPG) program helps agricultural producers enter value-added activities to generate new products, create and expand marketing opportunities, and increase producer income.
According to David, "When we wrote the first grant, we got to hire some cool people to help us figure out our plan and develop a little bit of our brand. The second one, with the working capital, that one was much more about our branded stuff. Our clamshells for tomatoes and our herbs. We really focused on wholesale and expanding our market."
Lovefood Farm aims to grow food with intention and send it out to the community. About a third goes to grocery stores in the area, Willy Street Co-op for example. Another third goes to their CSA, which supports around 200 families. The last third is split between restaurants, food pantries, and Farmers Markets like the Dane County Farmers' Market.
If you ever visit the Wisconsin state capital on a Saturday morning in the summer, watch for the Lovefood van and tent. David will likely be there and willing to tell you the reason he and his family love food. 
To learn more about Value Added Producer Grants in Wisconsin or to find contact information visit Value Added Producer Grants.
Obligation Amount:
250,000
Congressional District:
WI-02