Applications are accepted year-round.
What does this program do?
This program provides a Rural Business Investment Company (RBIC) license to newly formed developmental capital organizations to help meet the equity capital investment needs in rural communities.
Are you a business looking for developmental capital?
This program works with for-profit developmental capital funds.  Here is a list of Certified RBICs.  

Are you a fund manager looking to establish a RBIC?
Please read the following carefully.
Who may apply for this program?
Eligible applicants for the RBIC license include newly formed:
For-profit entities, or
Subsidiary of an entity
All applicants:
Must have relevant experience in venture capital or community development financing
Must raise a minimum of $10 million in private equity capital
May be structured as limited partnerships, limited liability companies or corporations
What is an eligible area?
There are no restrictions on the location of eligible applicants for RBIC licenses. The goal of each RBIC is to help fill the need for business and development capital in rural areas. Visit our Eligibility site to search for eligible rural areas. 
How may funds be used?
A minimum of 75 percent of funds must be made in rural areas with a population of 50,000 or less.
A minimum of 50 percent of funds must be invested in smaller enterprises.
A maximum of 10 percent of RBIC investments may be made in urban areas.
How do we get started?
Applications for this program are accepted on an ongoing basis. 
Who can answer questions?
If you have any questions please contact RBIP@usda.gov.
What governs this program?
Why does USDA Rural Development do this?
Access to capital is vital to businesses and often is scarce in rural areas.
NOTE: Because citations and other information may be subject to change, please always consult the program instructions listed in the section above titled "What Governs this Program?" You may also contact our National Program Office for assistance.
Resources
Rural Business Newsletters
NOTE: Please contact RBIP@usda.gov before attempting to fill out any forms or applications. This will save you valuable time in completing your application.
Preliminary Actions Required
To complete an application for this program, you must be pre-registered with the System for Award Management (SAM). Registration does not cost money, but can take time, be sure to get this taken care of right away. If you are already registered, you do not need to do it again.
RBIC Application
If you are interested in applying as a non-leveraged RBIC, please first read the RBIP Rules in 7 C.F.R. Part 4290  and the Application Procedure (pdf).
There are no additional requirements at the national level. If there are additional state-specific requirements, they will be listed above.
​
 South Dakota Rural Business-Cooperative Programs Contact Map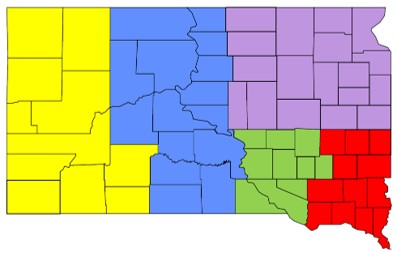 Grant Konechne, Rural Business and Cooperative Programs Director
200 4th Street SW, Federal Bldg. Rm. 210
Huron, SD 57350
Phone: (605) 352-1108
Fax: (855) 262-1940
Wyatt Stevens, Specialist
200 4th St SW Federal Building, Rm. 210
Huron, SD 57350
Serving: Beadle, Brookings, Brown, Clark, Codington,
Day, Deuel, Edmunds, Grant, Hamlin, Hand, Hyde, Kingsbury,
Marshall, McPherson, Roberts, and Spink Counties.
Phone: (605) 352-1111
Facsimile:  855-262-1940
Lance Lockwood, Specialist
414 East Stumer Road, Suite 200
Rapid City, SD  57701
Serving: Bennett, Butte, Custer, Fall River, Harding,
Jackson, Lawrence, Meade, Oglala Lakota, Perkins,
and Pennington Counties.
Phone: (605) 858-6681
Fax: (855) 262-1943
Clark Guthmiller, Specialist
1717 N. Lincoln Avenue, Suite 102
Pierre, SD  57501
Serving: Campbell, Corson, Dewey, Haakon, Hughes,
Jones, Lyman, Mellette, Potter, Stanley, Sully, Todd,
Tripp, Walworth and Ziebach Counties.
Phone: (605) 301-3409
Fax: (855) 262-1942
Cayla Holleman, Specialist
1820 North Kimball, Suite C
Mitchell, SD  57301
Serving: Aurora, Brule, Buffalo, Charles Mix, Davison,
Douglas, Gregory, Hanson,, Jerauld, and Sanborn, Counties.
Phone: (605) 299-3357
Fax: (855) 262-1941
Tyler Hinrichs, Specialist
2408 East Benson Road
Sioux Falls, SD  57104
Serving: Bon Homme, Clay, Hutchinson, Lake, Lincoln,
McCook, Miner, Minnehaha, Moody, Turner, Union, and
Yankton Counties.
Phone: (605) 937-4770
Fax: (855) 262-1944
Carolyn Bloodgood, Technician
200 4th Street SW, Federal Bldg. Rm. 210
Huron, SD  57350
Phone: (605) 352-1144
Fax: (855) 262-1940
Peggy Ryan, Loan Technician
1717 North Lincoln Avenue
Suite 102
Pierre, SD  57501
Phone: (605) 301-3407
Fax: (855) 262-1942
There are currently no events scheduled.