PLYMOUTH, Wis., August 26, 2022 – U.S. Department of Agriculture (USDA) Rural Development State Director for Wisconsin Julie Lassa attended yesterday evening a rededication ceremony at Lakeland University to celebrate the unveiling of two new residence halls.  
"We are excited to celebrate this expansion at Lakeland's main campus," Lassa said. "This historic investment has helped the university modernize key buildings and infrastructure so they can continue to support a robust pipeline of graduates which benefits local communities and the state. This project not only enhances Lakeland but also the economic prosperity and quality of life in rural east central Wisconsin."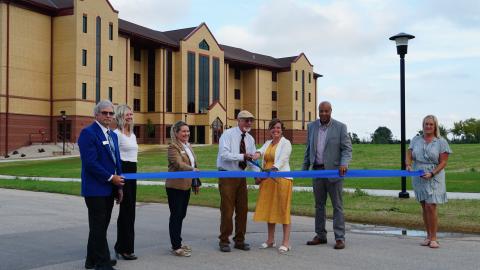 USDA funded the $35.4 million project through the Community Facilities Direct Loan and Grant Program which resulted in two new residence halls serving freshman and sophomores, along with a new water tower and related infrastructure.
Lakeland University is a bachelor's and master's degree-granting liberal arts institution with nearly 2,500+ students enrolled across 24 countries. Lakeland's Co-Op program, which was introduced in 2018, offers students in all academic programs the ability to work full- and part-time jobs at partner companies and organizations.
The two halls rededicated are named for Herman Muehlmeier, one of the institution's founders who served as president from 1885-1907, and Paul Grosshuesch, a graduate of the institution who served as president from 1931-49.
In 2014, the U.S. Department of Agriculture's Forest Service named Paul's grandson, David Gross, a National Volunteer Award Recipient for his work promoting employment and volunteer opportunities on his forest and his work with at-risk youth. 
"I've had a long career with the United States Forest Service (USDA). I've lived isolated on a wheat and cattle ranch all my adult life," Gross said during his remarks. "I am a man of the wide open, rural west but those rural roots started right here in Sheboygan County when I was just a little boy."
Alumni, family, guests and other participants enjoyed student-led tours of Grosshuesch Hall, which some students start moving into on Monday. 
USDA Rural Development provides loans and grants to help expand economic opportunities and create jobs in rural areas. This assistance supports infrastructure improvements; business development; housing; community facilities such as schools, public safety and health care; and high-speed internet access in rural areas. For more information, visit www.rd.usda.gov/wi.
If you'd like to subscribe to USDA Rural Development updates, visit our GovDelivery subscriber page.