Name
Meredith Mingledorff
USDA Rural Development Texas State Director Lillian Salerno and Assistant Administrator for Water and Environmental Programs, Charles Stephens, took part in discussions on infrastructure improvement opportunities, and visited a recent water project in Floresville, today, reviewing current investments and future opportunities for Texas. 
Salerno and Stephens toured Floresville and participated in a groundbreaking ceremony at the Plaza Well Site on 10th Street, before returning to the city's Convention Center for a panel discussion with partners and stakeholders focused on infrastructure needs, and the role it plays in supporting economic development and rural prosperity.
"Today represents a vital investment to ensure water quality and infrastructure is not dictated by zip code," said Salerno. "I will fight every day to guarantee Rural Texans get every available dollar from D.C. to improve water and wastewater infrastructure, which are critical to public health and the economic vitality of rural America."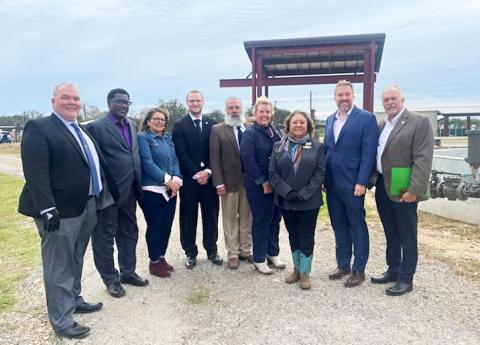 In 2021, a $427,000 loan was awarded to the city by USDA Rural Development, bringing the agency's total investment in Floresville to $15,904,000. The project includes rehabilitation and repair of the existing water well at the B Street Water Well Plant, repair and repaint of the deteriorated ground storage tank at the Hospital Water Plant, an emergency interconnect with the Oak Hills Water Supply Corporation, drilling and completion of a new water well at Plaza Water Plant, replacement of the aerator at the Hospital Boulevard Water Plant, replacement of an undersized aged water main, addition of standby power, replacement of water meters, a well and ground storage tank demolition and replacement, and City Hall building modification, which will 
strengthen Floresville's infrastructure, resiliency, and ensure its citizens are thriving. 
Under the Biden-Harris Administration, Rural Development provides loans and grants to help expand economic opportunities, create jobs, and improve the quality of life for millions of Americans in rural areas. This assistance supports infrastructure improvements; business development; housing; community facilities such as schools, public safety, health care, and high-speed internet access in rural, tribal, and high-poverty areas. For more information, visit www.rd.usda.gov. If you'd like to subscribe to USDA Rural Development updates, visit our GovDelivery subscriber page.

USDA touches the lives of all Americans each day in so many positive ways. Under the Biden-Harris Administration, USDA is transforming America with a greater focus on more resilient local and regional food production, promoting competition and fairer markets for all producers, ensuring access to safe, healthy, and nutritious food in all communities, building new markets and streams of income for farmers and producers using climate-smart food and forestry practices, making historic investments in infrastructure and clean energy capabilities in rural America, and committing to equity across the department by removing systemic barriers and building a workforce more representative of America. To learn more, visit www.rd.usda.gov/TX.  
USDA is an equal opportunity provider, lender, and employer.