Enter your five-digit zip code to determine if projects in your area are eligible for Priority Points.
Distressed Energy Communities Map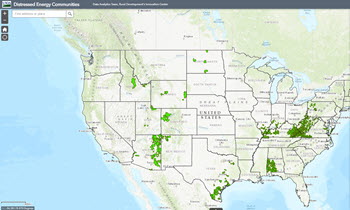 Use the Map to determine if your project qualifies for priority points.
Map Helpful hints:
The optimal web browsers for this map is Microsoft Edge or Chrome. This map will not function properly in Internet Explorer.
To see county and county names zoom into the location or put the name of the location into the search bar and they will then be visible.